Online Course: How to Write Appraisal Reports
Novice personal property appraisers are often at a loss as to how to actually write appraisal reports. And even experienced appraisers may need help to better understand what forms the basis for preparing reports, what information needs to be in a report and some examples of how that information could be worded.
Appraisal Course Associates is pleased to announce that managing partner, Dave Maloney, a Certified appraiser and veteran appraisal course author and instructor, has written the definitive online course, "How to Write Appraisal Reports," a unique course for the personal property appraiser.
Using a series of fifteen video presentations, numerous links to the referenced resources and course-related articles, and the latest in presentation techniques, the four parts of this course cover a time-proven method for preparing USPAP-compliant appraisal reports. (USPAP is an acronym for the Uniform Standards of Professional Appraisal Practice. USPAP is the only generally accepted standard of practice in the US for appraisers, and it covers all appraisal disciplines including real property, personal property and the appraisal of businesses and intangible assets.) By the way, this course makes use of the most current edition of USPAP including changes incorporated into the 2012-2013 edition of USPAP.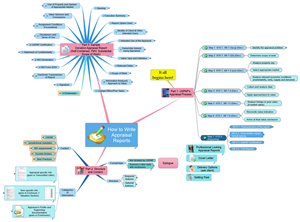 Making use of a high-impact mind-mapping presentation (right), Maloney will teach you the underlying USPAP requirements that form the basis for developing and reporting opinions of value, typical report structure and types of report content, the driving forces behind that content, and a complete sample appraisal report that reflects the requirements and best practices of the profession. Additional topics including making your reports look professional, designing and using a Cover Letter to convey your report to the client, and options for delivering the report and collecting payment will also be covered. This presentation will keep you focused in a way that will help you understand and remember the intricacies of writing a professional personal property appraisal report. An optional .pdf file download post-course reference resource is available to registered students.
Students have access to this course for 30 days. The cost of the course is only $89. The optional post-course review guide containing the entire course script as well as all referenced resources is only as a $29 download (available only to registered students).
Students having had the 15-hr National USPAP Course as well as a course in the fundamentals of appraising will benefit the most from this course.
View the course syllabus. For more information about the course, go to our online course homepage. Then scroll down to "How to Write Appraisal Reports."
Questions? Email Dave, or call 301-228-2279.