Appraising Personal Property: Principles & Methodology, 8th Edition
Posted: 27 Nov 2017 by Todd Sigety, ISA CAPP, Appraiser Workshops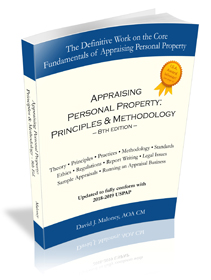 I mentioned before Thanksgiving that I now have the newly released edition of Dave Maloney's Appraising Personal Property: Principles & Methodology.
This is the 8th edition of the book, and as noted on the cover, it contains personal property appraisal theory, principles, practices, methodology, standards, ethics, regulations, report writing, legal issues, and sample appraisals.
Additionally, it conforms to the new edition (2018/2019) of USPAP.  As you will note, Dave updates the book every two years to coincide with the newest edition of USPAP, the next edition is scheduled for release in the fall of 2019.
The new edition with over 700 pages includes a table of contents, multiple appendices, glossary, bibliography and an in-depth index for easy reference and page location.
I must give Dave credit for the newest edition, as the book has changed and expanded over the years, it has not become more complex or cumbersome, but has actually evolved into a more refined and purposeful tool for the personal property appraiser. This is hard to accomplish, as when making changes to an existing text or book, many times after changes a work will become more complex and harder to follow. That is not the case with the 8th edition.
As many AW readers are aware from previous edition postings on Appraising Personal Property, I use the book on a regular basis. The book functions well as either a stand-alone reference guide, or in conjunction with appraisal association manuals, publications and course work as a secondary resource. And, as mentioned above, it takes into considerations  USPAP and the 2018/2019 USPAP updates.
What I find particularly note worthy about the newest edition is the level of detail and depth of content on a wide variety of topics. In addition to the explanatory content on appraisal theory and principles, it also contains many case examples for enhanced user understanding. The new edition makes the text and concepts not only easy to follow but straightforward to apply when developing and writing appraisal reports.
According to the What's New chapter, Dave has made over 1,500 changes to the 8th edition. All major changes have an "updated' icon so the reader is aware of the new or changed content. Also, new to the edition are footnotes which refer the user to additional content either in the book, in other publications or web addresses.
The chapters cover most foundational principles, theory and methodology for personal property appraisers, including terminology, five chapters on principles of appraising (such as intended uses, value/cost, approaches to value, types of property, insurance appraisals, federal tax liability appraisals, liquidation appraisals, identification and authentication…), USPAP, ethics, report writing, the appraisal practice, and legal issues. The legal issues chapter covers many topics including bailment, title concerns, fraud, professional negligence, third party liability and tax court cases related to personal property.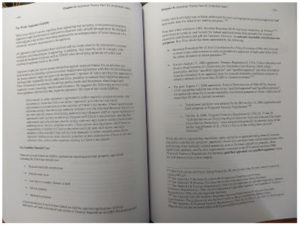 Following the main chapters are the multiple appendices which include forms, contracts, appraisal checklists, profile examples, letters of introduction, IRS forms and procedures, Treasury regulations, oral opinion of value disclosures, and sample appraisals.
The coverage and depth of content is so strong the book is useful to both new appraisers and experienced appraisers as well allied professionals.
As I have stated in the past about previous editions, this is an important book for all personal property appraisers to have in their library. The book is a valuable tool for members of the important appraisal personal property organizations such as the International Society of Appraisers (ISA) and The Appraisers Association of America (AAA), and perhaps even more so for independent appraisers. The new edition of Appraising Personal Property is an independent publication, so keep in mind the various association report writing standards if you are a member of one of these organizations.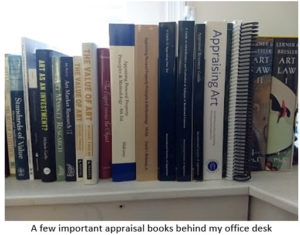 As the value of art and the interest in art as an investment continues to grow, this book is also a useful tool for many non-appraisers in art related professions. For example, every auction house should have a copy, so they are aware of the many differences between a formal appraisal and an auction estimate. Financial planners, private bankers, bank trust representatives, insurance underwriters, claims representatives, and estate attorneys should also consider owning a reference copy. Dealers in fine art and antiques should also consider having a copy on hand for a better understanding of what a qualified appraisal contains and the criteria for being a qualified appraiser.
Given the number of changes, conforming to the newest edition of USPAP, and expanded content, it is well worth the investment for the latest edition. The new edition is comprehensive and covers the pertinent and important topics in detail and certainly allows the appraiser a better sense of understanding personal property appraisal theory, principles and methodology as well as expanded report development and writing confidence.
Appraising Personal Property: Principles & Methodology with 708 pages is available for $94.95 plus $10 S&H. For more information and to order the 8th edition, click HERE.